Scopa
Idea

Graphics

Audio

Bonus features
Play Scopa for FREE
Habanero embarked on an exciting Italian journey with their visually stunning slot game, Scopa. The game unfolds on a unique 1-3-3-3-1 gaming grid, featuring 27 paylines, immersing players in an adventurous gameplay experience. Drawing inspiration from the famous Italian card game of the same name, Scopa offers thrilling and innovative gaming sessions, complete with a non-traditional gaming grid that hosts rewarding bonus symbols.
Moreover, the Scopa slot boasts captivating visuals, showcasing high-quality graphics that pay homage to the beauty of Italy. The card game that served as the inspiration for this release is one of Italy's two national card games. Scopa is immensely popular in Brazil, Argentina, and various cities and regions of Italy. Typically played with a standard deck of forty cards by two or four players divided into teams, it can also accommodate three, five, or six players.
The name "Scopa" translates to "broom" in Italian, reflecting the game's essence of "sweeping" or collecting cards. Observing or participating in a game of Scopa is a highly entertaining experience. With the Scopa slot's theme rooted in this engaging card game, players are instantly transported to a vibrant, traditional Italian setting from the very first spin of the reels, offering an exceptional reel adventure.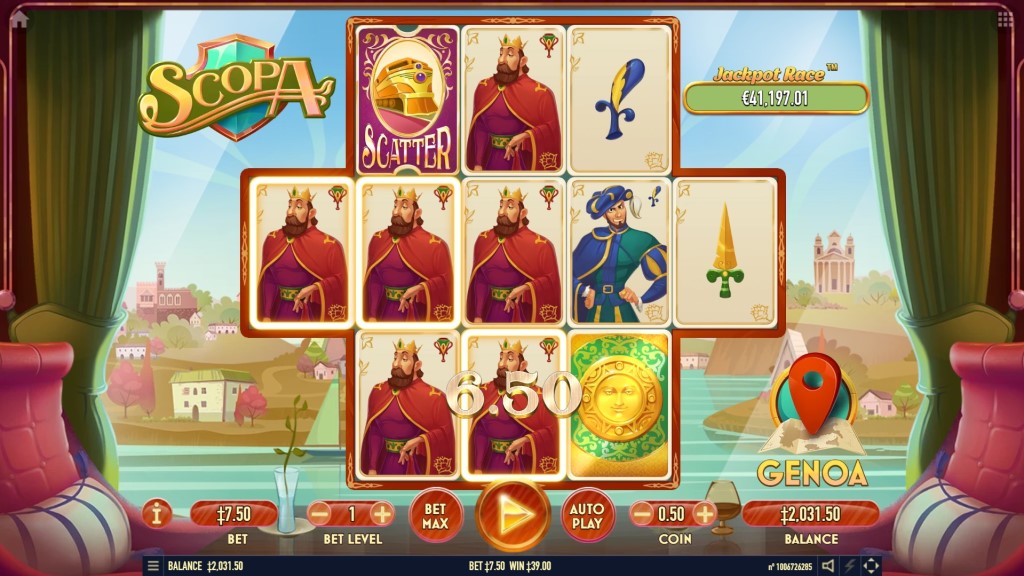 Graphics & Audio
Whenever a gathering of Italians occurs, it's almost inevitable that a lively game of scopa will ensue. The term "scopa" translates to "broom" in Italian, symbolizing the players' objective of skillfully sweeping the playing surface clean of cards to earn points. This classic game is played with a deck of 40 cards, each numbered from one to seven, and divided into four suits: coins, swords, cups, and batons. Additionally, the eight, nine, and ten cards in each suit are represented by infantry, cavalry, and king cards, respectively, resembling the king, queen, and jack in more familiar decks.
The Scopa slot game fully embraces these traditional playing cards within its gameplay mechanics. To further capture the essence of the game, the slot features a distinctive horizontal reel-spinning action, perfectly aligned with the game's theme. Embark on a virtual journey across the length of Italy, indulging in the luxurious ambiance of a railway carriage, accompanied by an elegant soundtrack. This is slots gaming in true style, offering a delightful blend of entertainment and sophistication.
Scopa Symbols
To begin your gaming adventure with the Scopa slot, a minimum bet of 0.15 credits per spin is all it takes, making it an affordable reel journey for players of all budgets. To form a winning combination, you'll need to land a minimum of three matching symbols on adjacent reel positions, starting from the left side of the gaming grid. As you aim to sweep the table with the Scopa slot, you'll have the opportunity to collect fantastic prizes along the way.
The most lucrative symbol featured in the Scopa slot is the king, offering a payout of up to 17.50 times your initial stake for landing five matching symbols. Additionally, the game's sun disc symbols are quite rewarding, granting payouts of up to 13 times your stake. The appearance of powerful wild symbols on the irregular gaming grid enhances your chances of winning, as they can substitute for other symbols. Furthermore, the Scopa slot boasts impressive bonus features tied to five iconic Italian cities you will visit on your journey: Genoa, Milan, Naples, Venice, and Tuscany.
Scopa Bonus Features
Wild
The Wild Card in the Scopa slot can substitute for all other symbols in the game, except for the two Scatters. Its purpose is to complete or create winning combinations whenever possible.
Free Spins
To trigger Free Spins in the Scopa slot, you need to land 3, 4, or 5 Purple Train Scatter symbols anywhere on the reels. This will award you with 13 Free games and apply a x1 multiplier to all wins. If you instead land three or more Sun Scatter symbols, you will receive 13 Free Games with a x5 multiplier.
Extra Features
Different regions in the Scopa slot offer unique extra features during both the base game and Free Spins. These additional features are granted as follows:
Genoa: Random multipliers of x1 to x3 are applied to the Wild symbols.
Naples: Wild symbols transform a random symbol into an extra Wild, but only on reels 1 and 5.
Venice: 1 or 2 Wild symbols are guaranteed to appear.
Tuscany: A low paying symbol is randomly transformed into a Wild symbol.
Progressive Jackpot
In the Scopa slot, players have a chance to win the Progressive Jackpot, which is the largest prize available. The jackpot can be won randomly at the conclusion of any spin.
Conclusion
In conclusion, the Scopa Slot game by Habanero offers an immersive and visually appealing experience inspired by the popular Italian card game. With its unique grid layout, bonus features, and the chance to win a Progressive Jackpot, players can enjoy an authentic and rewarding slot adventure. Whether you're a fan of Scopa or simply seeking exciting gameplay, this slot game delivers both entertainment and potential wins.