Lucky Streak 3
Idea

Graphics

Audio

Bonus features
Play Lucky Streak 3 for FREE
Enhanced and refined, fruity-focused classic 3-reel slot games like Lucky Streak 3 are a delightful amalgamation of vibrant colors, streamlined layouts, and straightforward gameplay. These titles hold immense appeal and bring forth a plethora of enticing features.
With a meticulously crafted design, these games offer a seamless and hassle-free experience, expertly blending elements from both traditional and contemporary gaming styles. Lucky Streak 3 serves as a prime illustration of this captivating fusion, showcasing the renowned Endorphina free slots' special bonus risk feature.
Immerse yourself in a world of pure simplicity, where eye-catching hues and intuitive interfaces take center stage. These classic 3-reel slots, exemplified by Lucky Streak 3, ensure a gaming encounter that is both nostalgic and exhilarating. Brace yourself for an unrivaled adventure that combines the timeless charm of traditional slots with the cutting-edge innovations of the modern era, all meticulously crafted to captivate your senses. Experience the thrill and excitement of Lucky Streak 3 and indulge in the renowned Endorphina free slots, offering a bonus risk feature that sets them apart from the rest.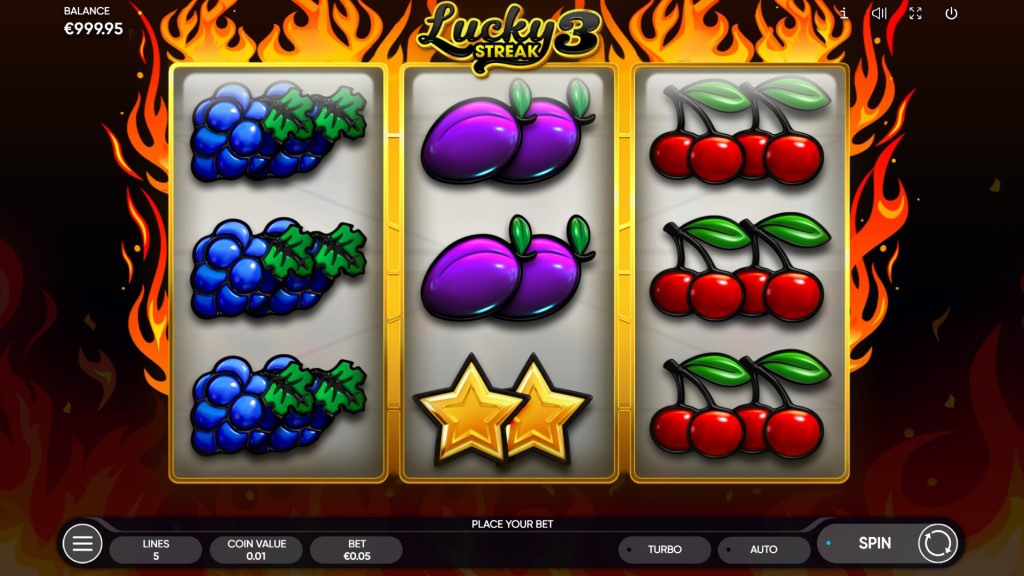 Graphics & Audio
Despite the constraints of the classic fruit machine style, Lucky Streak 3 manages to offer a commendable interpretation with its visuals and sound design. The game presents a familiar yet visually appealing experience.
The three-by-three reels are adorned with captivating red-gold flames, adding a touch of richness to the overall aesthetic. The fruit symbols, although traditional, are skillfully enlarged, making them appear plump and enticing. Anticipate the sight of luscious purple grapes, vibrant lemons, glistening plums, and delectable red cherries, all complemented by additional non-fruit symbols such as burning 7s, golden bells, stars, and BAR icons.
In terms of audio, Lucky Streak 3 embraces a standard classic soundtrack. While there isn't background music playing continuously, the game captivates players with the satisfying clicks and occasional bursts of a tune when the reels spin or when wins are achieved. This approach ensures that the attention of players is not diverted from the gameplay. Moreover, this low-key approach has an advantage in terms of drawing attention to the activation of the gamble feature, as an unmistakable alert accompanies its initiation.
Lucky Streak 3 artfully combines visually captivating elements with a fitting audio experience, creating an immersive atmosphere that captures the essence of the classic fruit machine style while offering a hint of modern flair.
Lucky Streak 3 Symbols

The Lucky Streak 3 slot machine offers an enticing betting range, catering to players with varying preferences. Remarkably, the minimum bet is set at a mere 0.05 credits, while the maximum bet reaches 0.50 credits. It's uncommon to come across a new slot with such a low maximum bet, making it an ideal choice for beginners venturing into the world of slot gaming.
With a respectable RTP of 96% and a medium volatility level, the gameplay in Lucky Streak 3 strikes a balance between entertainment and the anticipation of landing a rewarding win across its 5 paylines. Engage in thrilling spins as you aim to align winning combinations of symbols along the reels.
Let's take a closer look at the payout structure for landing three symbols on a payline in Lucky Streak 3:
The lucky 7s symbol bestows an impressive payout of 150 times the bet.
Stars, another lucrative symbol, offers a rewarding payout of 40 times the bet.
Bells contribute to the excitement with a satisfying payout of 12 times the bet.
For combinations of grapes, lemons, cherries, and plums, players can anticipate a decent payout of 8 times the bet.
Lastly, the BAR symbol concludes the paytable with a more modest payout of 1 times the bet.
Lucky Streak 3 presents an accessible betting range, enjoyable gameplay dynamics, and diverse payouts, making it a delightful choice for both novice and seasoned players seeking a memorable slot experience.
Lucky Streak 3 Bonus Features
This slot game embraces a gameplay focused approach, without incorporating special symbols or features beyond the spinning reels. However, the absence of traditional bonuses is compensated by an intriguing alternative. Endorphina's renowned Risk Game takes the spotlight, offering an enticing opportunity for players to amplify their winnings.
Activated after each winning spin, the Risk Game introduces an element of excitement and decision-making. Upon activation, a display of five cards is presented, with the leftmost card revealed. Your task is to carefully select a card from the remaining four, aiming to choose one with a higher value than the revealed card. Successfully surpassing the initial card doubles your winnings, with Lucky Streak 3 allowing you to engage in this captivating Risk Game up to 10 times per winning spin.
While Lucky Streak 3 may lack additional special symbols or features, the inclusion of the Risk Game ensures that players have an enticing opportunity to enhance their winnings and immerse themselves in a thrilling gameplay experience. The Risk Game adds an element of strategy and chance, enticing players to make calculated choices as they seek to maximize their rewards.
Conclusion
In conclusion, Lucky Streak 3 is a captivating slot game that combines the charm of classic fruit machine aesthetics with modern gameplay elements. While it may not feature an extensive array of bonus features or special symbols, the inclusion of the Risk Game adds an exciting twist to the gameplay experience. Players have the opportunity to double their winnings by making strategic choices in this thrilling bonus round. With an accessible betting range, a respectable RTP, and medium volatility, Lucky Streak 3 offers an engaging and balanced gameplay experience for both new and experienced players alike. Whether you're drawn to the vibrant visuals, straightforward gameplay, or the anticipation of the Risk Game, Lucky Streak 3 is sure to provide entertainment and a chance for exciting wins.