Great 27
Idea

Graphics

Audio

Bonus features
Play Great 27 for FREE
Introducing Great 27, a captivating slot game crafted by the renowned provider EGT. This creation stays true to EGT's expertise in delivering classic-style games, featuring an enduring and nostalgic fruit theme that appeals to players of all generations.
Immerse yourself in the timeless world of Great 27, accessible instantly through standard web browsers. For optimal performance and seamless gameplay with minimal lag, we recommend using Google Chrome. Prepare for an exceptional gaming experience as you encounter a three-column, three-row layout, complete with an autoplay option. This convenient feature allows you to set the game to spin automatically, granting you the freedom to relish the gameplay without manually pressing the spin button each time. Should you desire, you can halt the autoplay feature at any given moment.
EGT has garnered widespread acclaim for its extensive collection of classic video slots, and Great 27 maintains their legacy with pride. The 3×3 layout exudes an authentic atmosphere reminiscent of Las Vegas casinos, truly immersing players in an exhilarating gaming session. True to its name, this slot presents 27 paylines elegantly arranged across three columns, ensuring that winning combinations materialize when symbols align horizontally.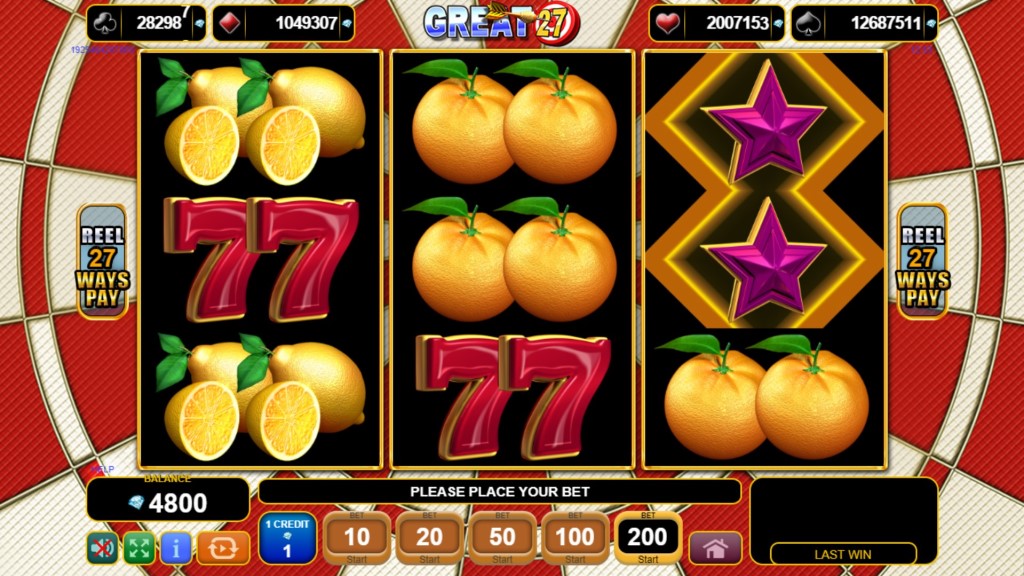 Graphics & Audio
Great 27 delivers a visual experience that combines familiarity with a touch of modernity. While the slot's overall appearance may resemble traditional slots, the game elevates itself with symbols displayed in an almost three-dimensional fashion. Each symbol is impeccably clear, enhancing the visual appeal and providing players with a visually stunning gameplay experience. The columns are elegantly presented in white, while the backdrop is adorned with a soothing blend of gold and orange tones. This thoughtful design ensures that players can enjoy extended gameplay sessions without straining their eyes, immersing themselves in an aesthetically pleasing environment.
In terms of audio, Great 27 strikes a balance between familiarity and excitement. As players initiate each spin, they are greeted by a familiar mechanical sound, evoking a sense of nostalgia for those who have indulged in EGT's slot games before. Upon securing a win, players are rewarded with a short and satisfying melody, heightening the thrill of their victories. Moreover, a delightful melody accompanies the activation of the bonus feature, where players can relish in the excitement of free spins. EGT maintains consistency in sound design, utilizing well-known and beloved sound effects that players may have encountered in their previous encounters with EGT's games. While there may not be any groundbreaking surprises in the sound department, the combination of these familiar elements ensures a cohesive and enjoyable audio experience throughout the gameplay journey.
Great 27 Symbols
In Great 27, players will encounter unique symbols that enhance the gameplay experience and offer enticing rewards. Let's explore these symbols in detail:
Nine Symbol Bonus: A thrilling feature awaits those who manage to align nine identical symbols across the reels. This extraordinary achievement doubles the players' winnings, injecting an exhilarating dose of excitement into the gameplay. With the Nine Symbol Bonus, players can revel in the satisfaction of their skill and luck, reaping generous rewards for their prowess.
Wild Symbol: Embodied by a dart board with a resplendent golden dart piercing the bullseye, the wild symbol possesses exceptional power. Acting as a versatile substitute, it can seamlessly replace any other symbol on the reels. By harnessing the wild symbol's ability to complete winning combinations, players unlock additional opportunities to secure lucrative rewards. This potent symbol adds a dynamic element to the game, elevating the overall gameplay experience and potentially bolstering players' in-play balance.
With the Nine Symbol Bonus and the captivating Wild Symbol, Great 27 introduces features that captivate players and enhance their chances of winning. Prepare to unlock thrilling bonus opportunities and harness the power of the wild symbol as you embark on your Great 27 adventure.
Great 27 Bonus Features
Free Spins Bonus
Unlock the power of free spins with Great 27's two distinct bonus variations. The first free spins bonus activates when three cherry symbols align in the middle row, granting players a single free spin. For a more rewarding experience, aim for the elusive trio of pink star symbols in the middle row, triggering an impressive 10 free spins. While landing the pink star symbols may pose a greater challenge, the alluring rewards make the pursuit worthwhile. On the other hand, obtaining the cherry symbols offers a relatively easier path to free spins. Embrace the excitement of free spins as you spin the reels without depleting your balance, enjoying the potential for significant wins.
Gamble Feature
Engage in the adrenaline-fueled gamble feature, a hallmark of EGT's games. This optional feature empowers players to multiply their winnings by predicting the color of the next card to be drawn. A correct guess doubles the winnings, while an incorrect one results in the loss of the entire win. This thrilling risk-and-reward element adds an extra layer of excitement for those seeking to push their luck and maximize their rewards.
Progressive Jackpot
Great 27 presents an enticing progressive jackpot, offering the chance for extraordinary winnings. Uncover the path to riches by selecting from 12 concealed cards. Should luck smile upon you and reveal three identical cards, you'll secure the corresponding jackpot. Delight in the pursuit of wealth as you ascend through four distinct jackpots, starting with the clubs-associated jackpot and culminating in the most valuable spades-linked prize.
Conclusion
In conclusion, while The Great 27 slot may not revolutionize the realm of classic slots, it undeniably provides a thoroughly enjoyable gaming experience. The inclusion of wild symbols adds excitement and the potential for substantial winnings. The slightly more challenging nature of triggering free spins adds an element of unpredictability, keeping players on their toes. Moreover, the availability of a mobile version ensures that players can savor the delights of this slot at their convenience, whether they're at home or on the go. Embrace the familiar yet captivating gameplay of The Great 27 and indulge in a memorable slot adventure.