Dragon Hot
Idea

Graphics

Audio

Bonus features
Play Dragon Hot for FREE
Dragon Hot is a captivating video slot developed by EGT, seamlessly blending enchanting fairy tale themes with classic fruit symbols. This innovative slot presents a delightful fusion of both worlds, featuring four individual slot machines, each boasting five reels and 20 paylines, thus offering players abundant opportunities to win big.
The slot's design immediately captures players' attention as the primary set of reels dominates the left side of the screen, while three additional sets grace the right side. In essence, it is a single slot machine with five reels and 20 paylines. Each reel showcases a delightful array of symbols, including luscious watermelons, cherubic cherries, zesty lemons, refreshing oranges, succulent plums, and juicy grapes. Additionally, players will encounter alluring golden bells, mesmerizing purple stars, lucrative dollar signs, lucky four-leaf clovers, and fiery red sevens. Hovering above reels two, three, and four, three majestic dragons eagerly await to play their part when the wild feature is activated.
The four-leaf clover assumes the role of the wild symbol, wielding its power to replace any other symbol in the game, except for the scatter symbols, represented by the dollar sign and the purple star. To enhance player experience, Dragon Hot also includes an autoplay option, granting players the convenience of automatic spins, relieving them from manually initiating each spin.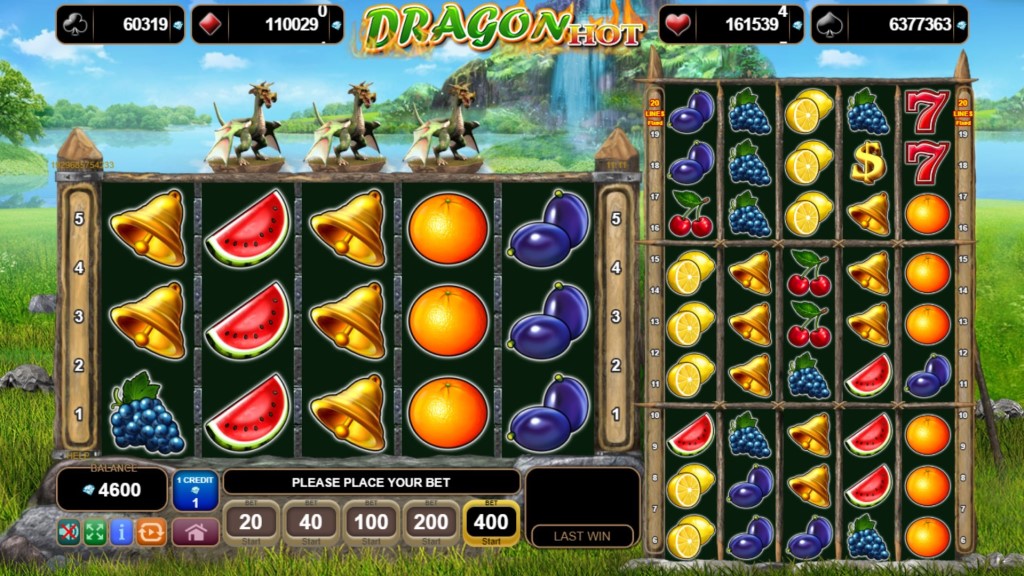 Graphics & Audio
EGT has put considerable effort into the graphics of this video slot, resulting in a visually pleasing presentation. While not groundbreaking, the 3D portrayal of various fruits is well-executed and appealing. The level of detail in the graphics, including the animation of the majestic dragons and their fiery breath, adds to the overall enjoyment of the game. Notably, when a winning combination is formed, the symbols burst into flames, creating an impressive visual effect.
In the realm of sound, EGT maintains its classic style, consistent with their previous video slots. The mechanical sound accompanying each spin adds a touch of nostalgia, while a traditional melody celebrates any player's win, regardless of its size. The sounds do vary, however, when a win involves wild or scatter symbols, providing a touch of excitement to the gameplay. Even during the gamble option, the sound of shuffling cards builds anticipation before players make their color prediction.
One unique feature is the activation of the wild option, as the dragons soar to other reels, accompanied by the distinctive sound of fiery breath, igniting the entire reel to reveal wild symbols. Overall, EGT has managed to maintain their high standard of graphics and sound, ensuring an immersive gaming experience for players familiar with their earlier video slots.
Dragon Hot Bonus Features
Progressive Jackpot
Surprisingly, this video slot does not offer a free spins option, which may disappoint some players. However, a significant compensation comes in the form of a progressive jackpot. The jackpot is randomly awarded, and to win it, the player must select three cards of the same suit from 12 cards that are face down. When successfully picking three identical suits, the player wins the jackpot designated for that specific suit. Luck can be your ally, bringing you unexpected and impressive rewards!
Gamble Feature
As common in most video slots, this game also includes a gamble option that attracts adventurous players. After achieving a base win, the player has the opportunity to double their winnings. All you need to do is guess the color of the next card to be drawn – red or black. If you successfully guess the color, your winnings will be doubled. However, be cautious because, otherwise, you will lose everything you have previously won. This thrilling option provides a chance for even greater rewards but also carries the risk that will keep players on the edge of their seats as they make decisions.
Conclusion
In conclusion, the EGT's Dragon Hot video slot offers an exciting and action-packed gaming experience to players. The unique feature of shifting wild symbols to other reels adds an element of intrigue, especially when multiple wild-filled reels are achieved simultaneously. Additionally, the presence of numerous scatter symbols enhances players' opportunities. While the graphics may not be the strongest aspect, they are still solid and complement the gameplay well. Evidently, EGT focused on making the gameplay engaging, and they succeeded in doing so. Players can expect frequent wins, albeit of smaller amounts, which calls for a bit of patience in pursuit of those potentially huge rewards.