Crystal Hot 80
Idea

Graphics

Audio

Bonus features
Play Crystal Hot 80 for FREE

Crystal Hot 80 is a slot game by the provider Fazi Interactive, designed in a retro style with a basic gameplay structure of five columns and four rows, offering a staggering 80 paylines. It features a fruit theme, inspired by classic slot machines. Although the fruit theme is quite common, it doesn't mean that such a slot cannot be interesting to play, especially when it comes to Crystal Hot 80. This video slot is actually an advanced version of Crystal Hot 40, with an additional 40 paylines, allowing players to achieve significant winnings. The game primarily targets experienced players who are willing to take more risks.
This video slot includes six basic symbols: watermelon, cherry, plum, orange, lemon, and grapes. The Wild symbol in this video slot is a red seven, which can substitute for any of the basic symbols to form a winning combination and can bring substantial winnings to the players. The Scatter symbol is a crystal star, and if a player gets five scatters anywhere on the reels, they will receive the highest payout.
The slot also offers an autoplay feature, allowing players to set automatic spins so they don't have to manually spin the reels every time. They can also choose the number of spins to activate with this option, ranging from five to an incredible 1,000 spins.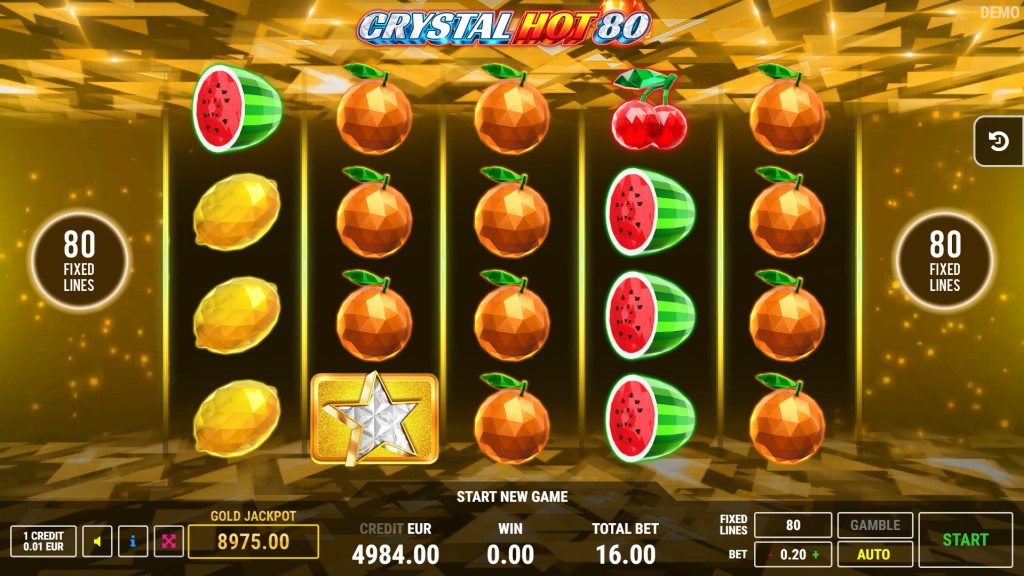 Graphics & Audio
Similar to its predecessor, Crystal Hot 40, Fazi Interactive has done an excellent job with the graphics in this video slot. The symbols have a crystalline appearance, beautifully rendered with a captivating 3D-like effect. The golden backdrop perfectly complements the slightly vibrant colors of the fruit symbols, creating a visually pleasing experience. Notably, when players achieve a win, animated flames emerge while the winning symbols illuminate. The gamble feature displays clear maps, indicating Fazi's meticulous attention to detail in this aspect. As Crystal Hot 80 embraces a retro style, the audio design follows suit. The gameplay is accompanied by a simple yet engaging sound that resonates with players. Additionally, when winning combinations occur, a distinct melody plays, tailored to the specific symbols involved.
The cash-out process is accompanied by a satisfying sound of counting, while the gambling feature introduces a unique sound accompanied by the shuffling of cards, enhancing the anticipation as players guess the next card's color. Although the audio segment doesn't introduce anything groundbreaking, Fazi has executed it admirably in this video slot.
Crystal Hot 80 Symbols
In the game Crystal Hot 80, players can enjoy a wide betting range from 16.00 to 8,000.00 per spin, making it a game designed for high rollers. However, at Slots Temple, players have the opportunity to experience the game without any associated risk, thanks to the generous trial balance provided. While winnings cannot be cashed in as real money, players can still explore the game and experience the thrill of taking big risks. It's an excellent chance to try out Fazi Interactive's demo slots and fully understand the gameplay without any financial commitment.
The game offers a variety of symbols, each with its own value and significance. Here are the symbols and their payouts:
Cherries, oranges, lemons: 5.00, 10.00, 50.00
Watermelons, plums: 10.00, 20.00, 100.00
Grapes: 10.00, 40.00, 200.00
Red 7 Wilds: 20.00, 200.00, 500.00
Gold star Scatter: 200.00, 800.00, 20,000.00
In addition to these symbols, there may also be other symbols present in the game, such as low-value symbols or high-value symbols, depending on the specific game features and design. These symbols contribute to the overall gameplay experience and the potential for winning combinations.
While playing, keep in mind that cash awards are influenced by the size of the wager. The higher the stake, the greater the potential for significant wins. Aligning three or more matching symbols across the 80 fixed paylines is the key to landing winning combinations. Remember to enjoy the thrilling gameplay and explore the features, regardless of the outcomes not involving real money rewards.
Crystal Hot 80 Bonus Features
Wild Symbol
The Wild symbol in Crystal Hot 80 is represented by the lucky red 7 icon. Apart from awarding cash payouts on its own, it also functions as a substitution symbol. Whenever there's a gap in a potential winning combination, the Wild can step in and complete the link, leading to a cash payout.
Scatter Symbol
The game includes a Scatter symbol, which is depicted as a gold and diamond star. Landing three Scatter symbols anywhere on the reels, regardless of their positions, instantly rewards players with a substantial cash payout. While the Scatter symbols don't trigger any bonus games, players can still enjoy the gamble feature, which becomes available after any win.
Gamble Feature
The Fazi Interactive Gamble game is accessible following a win. Players have the option to participate in this feature but should be prepared for the flashy lights that accompany it. In the gamble game, players are presented with a playing card that rapidly flips between red and black. They must guess the correct color, with a 50/50 chance of doubling their win. However, an incorrect guess will result in the entire win being forfeited and not added to the player's balance.
Conclusion
In conclusion, Crystal Hot 80 is a slot game designed for high-stakes players seeking an immersive and rewarding experience. While it may not boast a multitude of bonus features or free spins, the game focuses on maximizing winning opportunities. With its Wild symbol acting as a substitution symbol, players have the chance to complete winning combinations and secure cash payouts. The Scatter symbol offers instant cash rewards, although it does not trigger bonus games. Additionally, the gamble feature adds an element of risk and excitement for those willing to take a chance on doubling their wins. While Crystal Hot 80 may not cater to those seeking extensive bonus features, it delivers a solid and engaging gameplay experience, particularly for serious players looking to maximize their potential winnings.