Aztec Glory
Idea

Graphics

Audio

Bonus
Play Aztec Glory for FREE
Introducing "Aztec Glory," an immersive slots game by EGT that transports you to the captivating world of the ancient Aztecs. Prepare for an extraordinary journey through time as you spin the reels in this Aztec-themed adventure. With enhanced features and captivating visuals, Aztec Glory offers an exhilarating gaming experience.
Embark on your quest with 5 reels and 10 paylines, providing ample opportunities for thrilling wins. This medium variance slot ensures a balanced gameplay, with frequent payouts that keep the excitement flowing. What's more, Aztec Glory boasts an impressive Return to Player (RTP) rate of 97%, promising rewarding adventures for daring players.
Within the game, you'll encounter a rich assortment of symbols that truly bring the Aztec civilization to life. Witness mighty Aztec warriors and their enchanting women, explore awe-inspiring pyramids, encounter the exotic wildlife of the jungle, including wild cats and vibrant parrots. Additionally, familiar playing card symbols such as A, K, Q, J, and 10 make an appearance as lower payout symbols, adding a touch of familiarity to the game.
Keep an eye out for the Aztec pyramid, which serves as the wild symbol. The presence of these elusive symbols on your reels enhances your chances of securing generous rewards. Furthermore, be on the lookout for the scatter symbol, as it holds the key to unlocking thrilling free spins, granting you even more opportunities to secure substantial wins.
Prepare to immerse yourself in the splendor of Aztec Glory by EGT. Let the mystical symbols guide your path and witness the magnificence of an ancient civilization unfold before your eyes. With its captivating gameplay mechanics and lucrative features, this extraordinary slot game is sure to captivate both novice and seasoned players alike.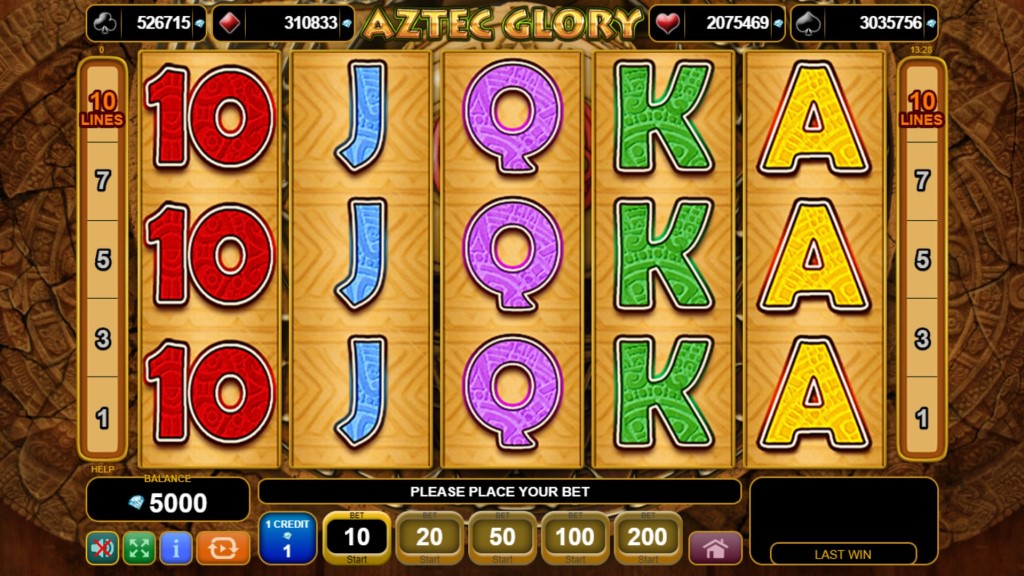 Graphics & Audio
Aztec Glory, developed by EGT, presents graphics that, while not cutting-edge, maintain a crisp and clear quality. Although the visuals may not boast the latest advancements, they still provide an enjoyable experience, especially for players using mobile devices. Rest assured that you can embark on your gaming adventure seamlessly, as the game is optimized for successful mobile play.
In terms of audio, Aztec Glory offers a satisfying soundscape that complements the gameplay. While not groundbreaking, the sound effects effectively enhance the overall experience, ensuring an immersive atmosphere. Experience the anticipated thrill of victory with intensified sounds that accompany your wins, further heightening the excitement of each achievement.
Aztec Glory Symbols
Aztec Glory offers a flexible betting range to cater to different player preferences. The game allows for a maximum bet of 10.00 credits, appealing to high rollers who seek significant wins. On the other hand, a minimum bet of 200.00 credits ensures accessibility for those with a more conservative approach.
Let's explore the top wins achievable with the maximum bet of 200 credits, providing the ultimate thrill during your Aztec adventure:
5 x Chieftain: Discovering this powerful symbol five times on the reels rewards an astonishing 100,000 credits, showcasing the true glory of the Aztec empire.
4 x Chieftain: Landing four Chieftain symbols grants a generous payout of 20,000 credits, offering substantial rewards.
3 x Chieftain: Three Chieftain symbols provide a noteworthy payout of 2,000 credits, adding excitement to your gameplay.
5 x Temple/Princess: Aligning the captivating Temple and Princess symbols five times bestows a handsome reward of 40,000 credits, elevating your journey.
4 x Princess: Four Princess symbols on the reels bring a delightful payout of 8,000 credits, highlighting their elegance and worth.
4 x Temple: With four Temple symbols, you'll receive a satisfying payout of 4,000 credits, emphasizing their significance.
5 x Cougar/Parrot: Aligning the Cougar and Parrot symbols five times presents a thrilling opportunity to secure a considerable win of 15,000 credits, as the vibrant wildlife of the jungle leads you towards riches.
4 x Cougar/Parrot: Even landing four Cougar or Parrot symbols grants a substantial payout of 2,000 credits, showcasing their beauty and value.
5 x A/K: The A and K symbols aligning five times result in a rewarding payout of 3,000 credits, boosting your overall winnings.
5 x Q/J/10: Finally, the Q, J, and 10 symbols aligning five times offer a notable payout of 2,000 credits, demonstrating that even the lower-value symbols can bring generous rewards.
Immerse yourself in the riches of Aztec Glory and seize the opportunity to claim these impressive paytable wins. Whether you aim for the majestic Chieftain, captivating Temple and Princess, or vibrant wildlife, substantial wins await you.
Aztec Glory Bonus Features
Progressive Jackpot
Prepare for the excitement of chasing the Progressive Jackpot in this thrilling game. With four levels to conquer, the potential for massive wins awaits. While the lower levels offer modest payouts, the highest tier can skyrocket into the hundreds of thousands, tempting players with life-changing rewards. Keep a close eye on the top of the screen, where the four jackpots are prominently displayed, accompanied by their continuously growing totals. Each level is represented by a playing card symbol:
Clubs = Level one jackpot
Diamonds = Level two jackpot
Hearts = Level three jackpot
Spades = Level four jackpot
For complete transparency, hover over each jackpot to reveal valuable information about previous winners and the corresponding amounts they claimed. Get ready for an exhilarating ride as the Mystery Bonus Jackpot feature can be triggered randomly after a spin. During this feature, twelve playing cards will appear on the screen, facedown. Your mission is to select cards one by one until you unveil three cards of the same suit. The suit of the revealed cards will determine the jackpot you win, granting you a thrilling taste of victory.
Free Spins
Unleash the Power of the Temple The Aztec Glory by EGT slots game presents an exciting free spins feature triggered by the presence of the large temple symbol. To unlock this thrilling bonus, keep an eye out for three or more temple symbols gracing your matrix. Once activated, you'll be granted a generous allocation of 10 rounds of play. During these free spins, the wild symbol takes center stage, increasing your chances of landing significant wins. Brace yourself for an immersive gaming experience as the wild symbol works its magic across the reels, leading you towards incredible rewards.
Gamble Feature
In the Aztec Glory by EGT slots game, an additional gambling option awaits the daring players seeking an extra thrill. When presented with this opportunity, you'll encounter a row of face-down playing cards, awaiting your choice. Test your intuition and guess whether the next card will be red or black. A correct guess opens up another chance to gamble, if you dare to continue. However, be aware that an incorrect guess will result in the loss of your winnings. Take a calculated risk and seize the opportunity to maximize your rewards in this exhilarating gambling feature.
Conclusion
In conclusion, Aztec Glory is a thrilling online slot game that transports players to the captivating world of the ancient Aztecs. While the graphics may not be the most advanced, the gameplay and potential rewards make it an enticing choice for both casual players and high rollers. With its flexible betting range, exciting bonus features like free spins and a progressive jackpot, and impressive paytable wins, Aztec Glory offers an immersive and rewarding gaming experience. Explore the mysteries of the Aztec civilization, encounter majestic symbols, and chase after the glory and treasures that await. Embark on this thrilling adventure and see if you have what it takes to claim your share of Aztec riches!